The 80's called. They wanted my lamps back. So instead of giving them back, I updated them! I had 2 of these lamps in our master bedroom. They had belonged to my parents, and they didn't want them anymore. I can't figure out why. 
Ignore my husband's messy functional nightstand.
I am decorating our master bedroom to be light and airy and a little bit nautical. So the mauve and cream had to go. I found a new shade at Walmart that has a canvas type material. I knew a white lamp base would look great with it. So I snagged two shades and headed over to the paint department for some spraypaint. I used Krylon's brand.
It worked really well. My advice when it comes to spray painting would be to apply thin coats. It won't cover all in one swoop. Hold the can a good 6 inches away and lightly go back and forth. If you get trigger happy and get too close to the surface, you will have drips. Let the paint dry in between coats. It took me several coats. It will eventually cover completely; it will just take a while. Here is the finished product!

The after! The lamp shade is shiny because it still had the plastic on it.


So much better! I enjoy quick and inexpensive makeovers. They can make a huge difference with not a lot of time committment and money. Now for a little side by side!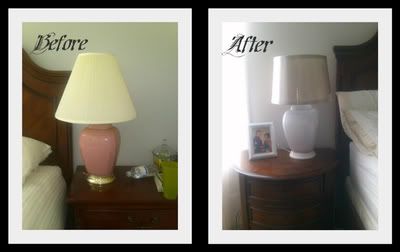 Is there anything you have made over lately? Any little projects you are thinking about tackling? Let me know!